ProcureLinx can build your purchasing system from the ground up, or assist with your efforts before – or after – DCMA performs their review. Our specialties include process improvements, change management, internal file reviews, manual and template reviews, live CPSR support, acquisition target evaluation, as well as organization-specific customized services.

Mark Hijar is an industry-recognized expert in federal supply chain compliance. He has successfully supported hundreds of successful Contractor Purchasing System Reviews (CPSRs), competitive and sole source proposal processes (including FMS) as well as Property System evaluations, Estimating System audits and Incurred Cost Audit responses. During a single ICA, Mark worked along with the client to reduce DCAA's audit-ending request for reimbursement by nearly $3M (90% from the initial request).
Mark was also counsel for a publicly traded government contractor where he oversaw the company's intellectual property portfolio, export compliance, purchasing system administration, and contract negotiations. Over the course of his career, Mark has negotiated more than 8,000 contracts ranging from NDAs to CRADAs, including thousands of teaming agreements and subcontracts.
Along with published articles on CPSR compliance in CM Magazine, Mark serves as a recurring speaker for various local NCMA chapters including the Dulles Corridor, Free State, Potomac, and Old Dominion Chapters. Mark has also provided presentations upon request in Stafford, VA for the USMC Small Business Office and for the Greater Washington Society of CPAs (GWSCPA). Mark was a featured speaker at the 2019 NCMA World Congress in Boston, MA and presented at NCMA 2020 and 2021 Virtual SUBCON on CPSR issues. Mark also presented two (2) sessions at both 2022 SUBCON and 2022 World Congress in Chicago, IL.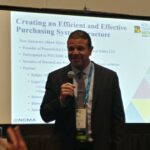 Mark Hijar
Founder and CEO